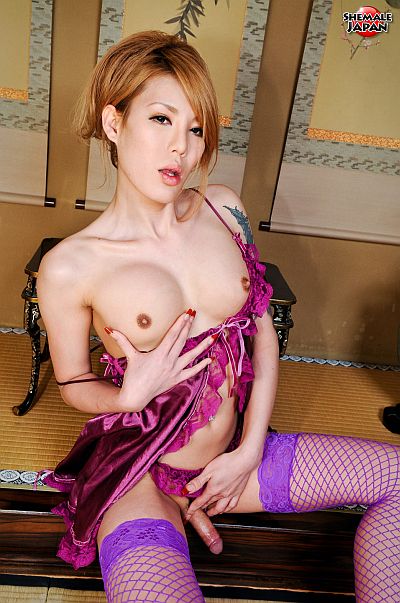 Japanese shemale Rui Matsushita is one of the most beautiful newhalfs and in her latest video for Shemale Japan she plays with her cock and fucks her ass with a dildo.
Rui Matsushita lays on the bed in her purple satin lingerie and runs her hands up her legs in blue fishnet stockings. Reaching down she touches the slight bulge under the front her purple thong and pulling it to one side she releases her cock and pulls back the foreskin. Then licking her fingers to make them wet, she applies them to her purple cockhead and strokes her cock to hardness.
Slipping the straps of her negligee over her shoulders, Rui licks her lips as she feels up her rounded tits and teases the erect brown nipples. Then drawing her panties down her stockinged legs she slips them off, and laying on her side she inserts a jello vibe up her tight brown butt hole.
Rui fucks her ass with the dildo stretching her tight hole and reaches over to feel the soft rounded buttocks of her peachy ass. Then kneeling with her ass cheeks spread wide, she pushes the cock like object ever deeper inside her shitter as she plays with her cock.