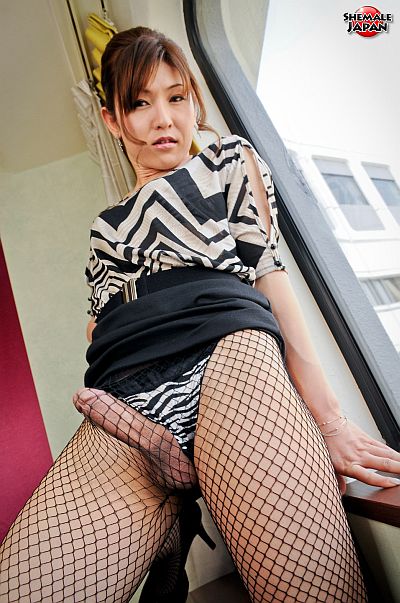 Japanese Newhalf Mai Ayase smiles as she leans forward and runs her hands up her sexy legs in slutty fishnet pantyhose and heels. As her fingers reach the tops of her thighs, she moves them over the front of her short black skirt and rubs the thick bulge of her erect cock through the material.
Mai moves her legs sensuously as she teases up the edge of her skirt to show her pert buttocks tightly encased in a sexy layer of fishnet hose. Turning she reveals her stiff erection poking out of the top of her thong, then pulling her panties downwards she releases her monster cock, the thick purple cockhead pushing against the tight netting of her pantyhose.
Mai gently fondles her stiff cock and balls still trapped behind the netting of her hose, before finally releasing her erection from it's pantyhose restriction to let it spring free.
Pulling down her pantyhose and panties so they are stretched around her thighs, Mai kneels and pulls the cheeks of her ass apart to show her butt-hole which is in need of your cock.
Mai then grips her erection, then with rapid movements of her fist she jerks off her throbbing shecock and climaxes by shooting jets of cum up her shirt and onto her naked thigh.