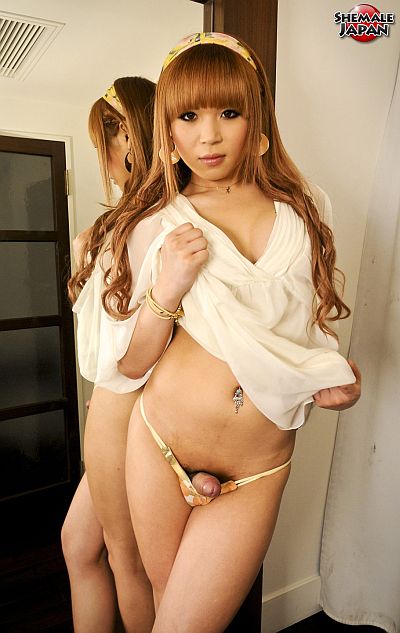 Japanese shemale beauty Kaede has really transformed into a very stunning looking newhalf over the past year and a half since she first made her appearance on Shemale Japan.
Kaede is very beautiful and feminine in appearance, having long flowing hair, sexy almond shaped eyes and gently smiling lips. She can easily pass for a real girl on the street, and you'd only know otherwise once you got down to her panties and discover that she has a superb shecock hiding in her knickers.
And what a specimen her shecock is, indeed! In fact Kaede is very well endowed and her cock is also easily aroused as you will soon see in her latest video.
Standing next to a mirror, Kaede's erection can hardly be contained inside her tiny panties, so she flips it out and pulls back the foreskin to reveal the bright, shining purple head of her lovely cock.
Turning to give a view of her butt, she makes sure that her panties are pulled tight in the cleft of her buttocks, pulling the cheeks apart as she gives her sexy little ass a wiggle for our benefit. When she turns around again she pulls her stiff cock out of the side of her panties and as it stands out at an angle from her pubic bush as she moves her hips is a very sexy manner.
Kaede lays on the bed bed and strokes her fabulously meaty cock with both hands and teases the erect brown nipples of her breast with her fingers. Then intensifying her strokes she reaches her climax and ejaculates multiple ropes of sperm in a heavy cum load which spills over her fist and trickles down her groin. Well done, Kaede! For such a pretty girl… you sure do have a lot of cum!