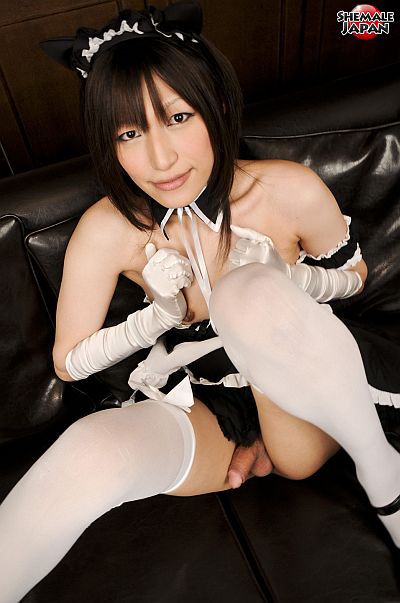 Japanese shemale Rea is arguably the hottest new starlet on the newhalf scene. She made her debut as an escort at the beginning of 2012, and has since shot to stardom in a short space of time to become one of the most sought after girls here in Japan.
I must say Rea lives up to her reputation for her beauty and charm, and has a shyness that is so very attractive. As she sat on the leather sofa in her maids uniform she looked like any other shy Japanese girl, but things quickly moved forward as she shyly lifted up her skirt to show that her cock was already stiff and erect.
Rea relaxed a bit more and sat back with her legs up and her feet on the sofa, then reached down between her thighs to play with her lovely cock and stroked it in her gloved hand. She was all smiles as she pulled on her thick erection, which she pushed down between her legs for a closeup view.
Rea has very desirable milky white skin and pulling down the top of her dress revealed she has small, soft breasts with hard, brown, perky nipples which she teased with her satin gloved fingers.
Sitting on the floor with her legs pulled back so her privates were on full view, she reached down and forked her erect cock between two of her fingers and wiggled it about between her stockinged thighs. Then she pulled the crotch of her panties to one side to give a view of the puckered ring of her ass where she likes to get fucked.