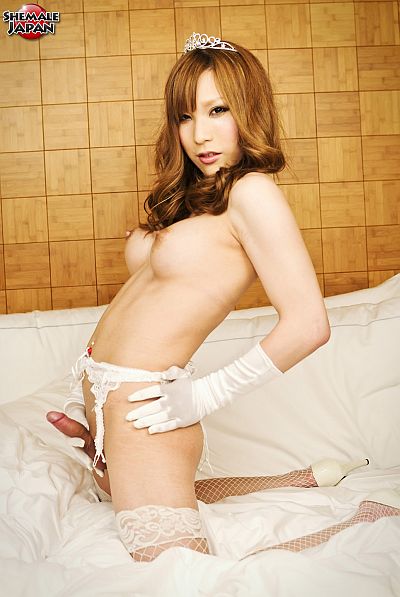 Japanese shemale Kumi looked every bit a pretty princess wearing a tiara on her head, dressed in white lingerie, white net stockings with lacy tops and garterbelt. A subtle smile of pleasure lingered around her red painted lips as she stood in her heels, masturbating her erect shemale cock in her satin gloved hand.
Turning around to give a rear view she moved her sexy ass from side to side, causing the long garters to stretch and pull over the flesh of her rounded buttocks.
Laying back on the bed she circled the erect nipples of her tits with her gloved fingers and pulled back the foreskin over the taut, shiny skin of her cockhead as she leisurely stroked her beautiful hard prick.
Kumi removed her gloves and applied some oil to her hands, then kneeling on the bed she polished the gleaming purple knob of her erect penis in her closed fist. Her hand pumped her throbbing cock and with rapid movements she milked out her sperm, which ran down the shaft and over her fingers.