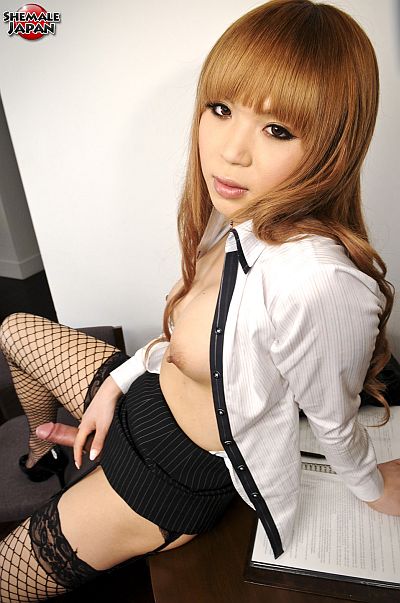 Kaede looks very hot and sexy dressed as a horny business lady in smart suit, tight skirt, fishnet stockings and heels. Suddenly dropping her pen she kneels down to pick it up and pulling back the hem of her skirt she adjusts the tops of her stockings.
Kaede runs hands up her crossed legs and admires them in their net stockings, then leaning over the desk to give a rear view, she pulls her panties to one side and exposes the puckered ring on her anus. Her hands pull at her ass cheeks, uttering sounds of desire as she touches her anus and pushes her erect cock back between her thighs, her balls snagged in the the tight crotch of her black panties.
This filthy slut is clearly excited and pulls her panties down her stockinged legs, stripping them away and turning to sit on the desk. Grabbing her prick she pulls back the foreskin and exposes the shiny purple knob as she strokes her erect shecock, uttering sounds of pleasure as she wanks herself off.