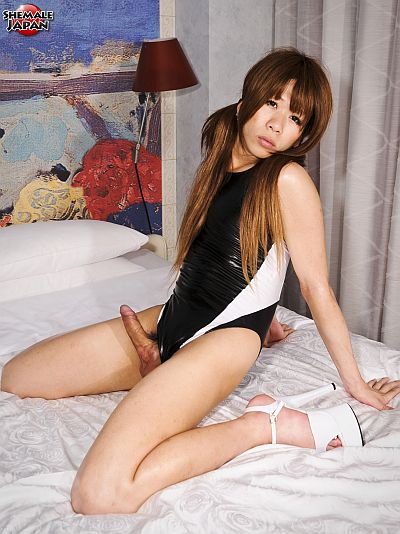 Japanese newhalf Saki was so excited by the feel of her latex leotard around her cock it became hard and stood out in a ridge behind the tight, shiny rubber.
She pulled the latex crotch to one side and took out her thick, erect member and stood sideways tugging the foreskin back over the bulbous head of her hard shecock.
Laying down on the bed she applied a large vibrator with a revolving head to her erect cock and balls. She writhed on the bed and gasped as the intense vibrations stimulated her erection and made the shiny purple cock-head thicken with pleasure.
Saki then gripped the shaft of her erection and with rapid strokes of her fist, she polished off her cock and ejaculated thick, white cum over herself.