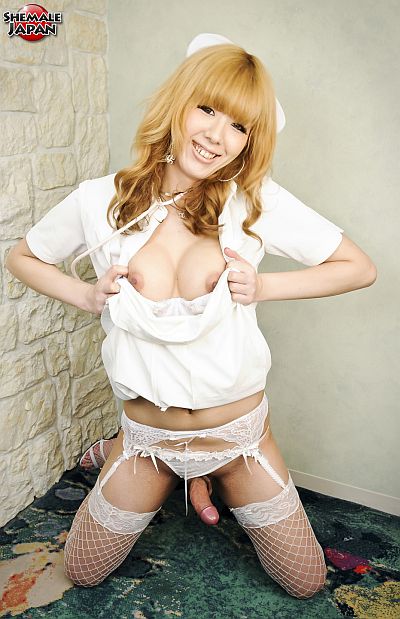 Noa Lijima makes a return visit to Shemale Japan and shows off her new hairstyle, new breasts and plays with her hard cock in her latest video.
Hiro met up with Noa a few weeks ago at the hotel and persuaded her to undo the front of her dress and let us see her brand new breasts. Like a lot of Japanese girls Noa is quite shy is some ways and covered her mouth with her hand as she showed off the perfectly formed, soft mounds of her transsexual titties.
Hiro reached out to fondle and grope her cock through her satin panties and made her get an erection. Her stiffened cock felt uncomfortable behind the front of her tight satin panties, so she pulled it out and was then persuaded to masturbate while she touched and played with the soft, tender nipples of her breasts.
Lifting her legs back, Noa pulled her panties down so they were stretched around her thighs and behind the shaft of her throbbing cock, which was like a big clitoris with a bulbous, purple head which she stroked between her fingers.
Noa stripped out of her dress and in a kneeling position she presented her ass and pushed her erection back between her thighs. Hiro reached out and gave Noa's prick a helping hand, wanking her shaft and tugging the foreskin back and forth over the shiny, purple crown of her penis.