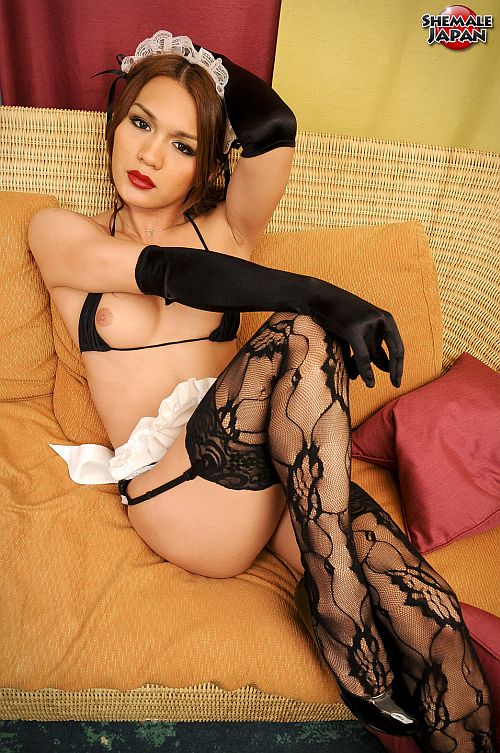 Rion looked super sexy as she swayed her hips then lifted the short apron around her waist and ran her hands over the bulge in her tight black panties. The long black suspenders which stretched over her naked thighs down to the tops of her sexy black stockings, looked particularly enticing as she moved and turned around to give a view of her ass.
Rion pulled the rear of her panties to one side and firmly gripped each of her buttocks, pulling them apart as wide as possible and exposing the brown puckered ring of her anus. Then she turned and stripped away her bikini bra, pushing the mounds of her tits together and giving a close up view of the perky brown nipples.
Rion sat on the sofa and licked her tongue around her lipsticked mouth as she stroked the shaft of her erect cock, waving it about like a heavy piece of salami in her hand. Pulling her panties down her stockinged legs she took them off and rubbed them over her cock and balls, then continued wanking her lovely long shecock.
Stripping off her garterbelt, stockings, heels and gloves, Rion was now almost fully naked as she rolled on the bed with her cock in hand. Then kneeling, she tiltled her ass upwards so it was fully exposed and rubbed the ring of her anus as she jerked-off her cock between her legs.