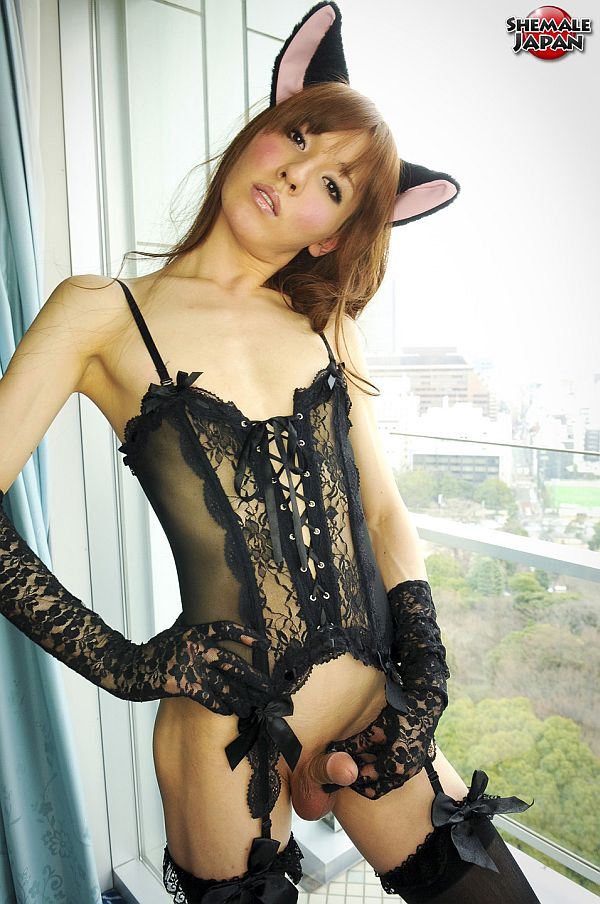 Lisa looked so pretty with her chestnut colored hair cascading over her shoulders as she posed in black lacy lingerie basque and opaque stockings with satin bows decorating the tops.
Wearing some cute pussycat ears and a long black tail attached to the back of her panties, she turned around for a rear view and gave her sexy little bum a wiggle.
Lisa then pulled down her panties and spread the cheeks of her ass, exposing the tight ring of her butt hole as she massaged her firm buttocks in her lace gloved hands.
Pulling her panties down further so they were stretched around her legs, she gripped her erect cock and gave it a leisurely wank with her lacy fingers wrapped around the thick shaft.
Sitting in the chair she crossed her legs and sandwiched her prick between her thighs so it was sticking out from behind, then made it spring back several times as she flicked it with her hand.
A pleasurable smile formed on her lips as she pressed her legs together and teased the purple bell end of her cock with her lacy fingers.
Sitting back with her legs over the arms of her chair to fully expose her butt-hole, she rapidly jerked-off her cock and slapped her meaty member against the naked flesh of her thigh.
Lisa's hand was a blur as she vigorously wanked her throbbing cock and she cried out as the intense pleasure of her orgasm arrived and she ejaculated thick strands of white cum over her lacy gloved fist.