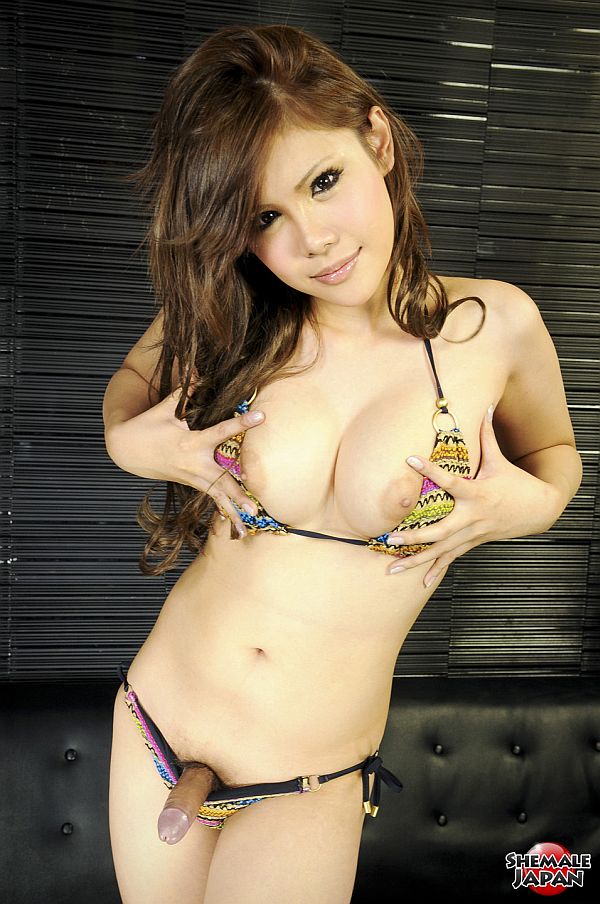 Ririca is without doubt one of the most beautiful Japanese shemales I have ever seen, a real fun girl who has pretty face, a fabulous feminine body with firm round breasts and and packs a nice hard penis down her panties.
Ririca turned up for this video shoot wearing her new bikini which she had just bought in preparation for summer and the prospect of picking up lots of guys who won't realize she is a shemale, until it's too late of course…
Do they turn her down once they realize that she has a cock? 'Not many', Ririca tells me. 'They are so turned on and intrigued that I look so pretty and yet I have a hard cock down my panties and like the fact that I'm something different from any other girl they've ever had.'
Take look for yourself at gorgeous Ririca looking so cute in her latest video, as she presents her ass and pulls the rear of her bikini panties to one side to show the tight ring of her anal pussy, then stretches and teases her panties around her hard cock until it springs out at us!
What a whopper she has, this cocky girl! See her standing sideways to give a view of her erection sticking out at a forty-five degree angle and waving her thick cock around as she gyrates her hips and wanks her shaft between her fingers.