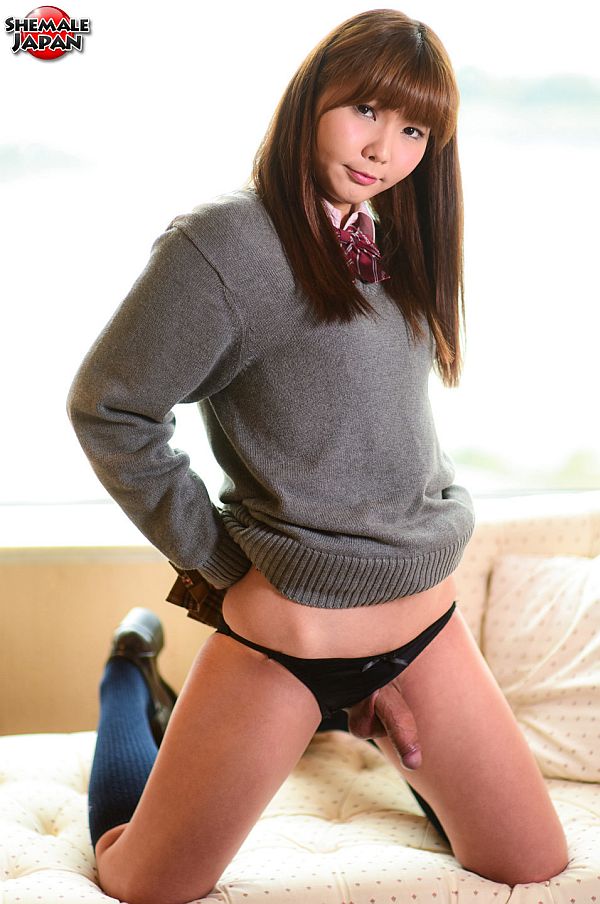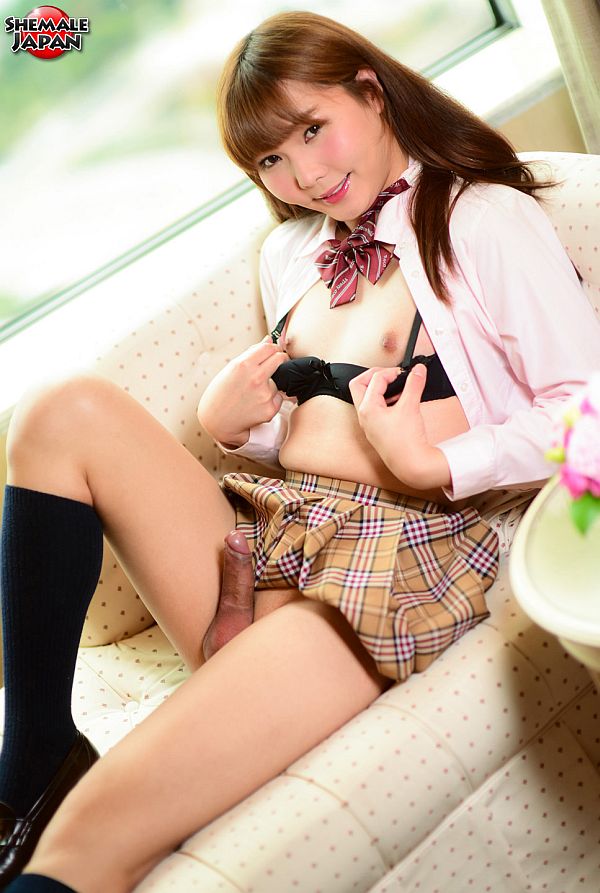 Yume sat on the sofa, looking quite demure in her school uniform – grey woolen sweater, short plaid skirt and knee-high socks – her voice both feminine and melodious while she talked about herself to our photographer, Hiro.
Yume appeared so sweet and innocent, with her long brunette hair framing her oval shaped face and cute dimples appearing at the side of her mouth as she chatted away about her sexy, short skirt.
But don't be fooled – this girl enjoys having a mans hand up her tiny skirt, pulling aside her panties and and getting her hard cock stiff and excited. Yume likes to masturbate a lot and when she gets home after a long day at college, it's up with her skirt and down with her panties for a much needed wank to relieve her frustrations.
We asked her to show us what she does, so she stood by the window and lifted up her flirty skirt to reveal her cock bulging under the stretchy material of her tiny, black thong. She giggled sweetly as she rubbed her cock through the tight, shiny nylon of her panties, then reached inside to release her erection from it's confinement. Her stiff member suddenly sprang into view over the top of her panties, throbbing as it stood at an angle to her body.
Yume sat and hooked her thumbs into the elastic of her panties, then pulled them from under her ass and attentively stripped them over her naked thighs, socks and shoes. Opening her shirt, she pulled down the cups of her black bra and exposed the soft mounds of her tiny tits, and stroked her rigid cock that stood erect against the folds of her plaid.
Yume went over to the window and standing with her back against the frame, she lifted her skirt up high and took her cock in hand. Smiling sweetly like a real pretty girl, those characteristic dimples appeared at the edges of her soft pouting lips and she wanked her erection in open view of the window.