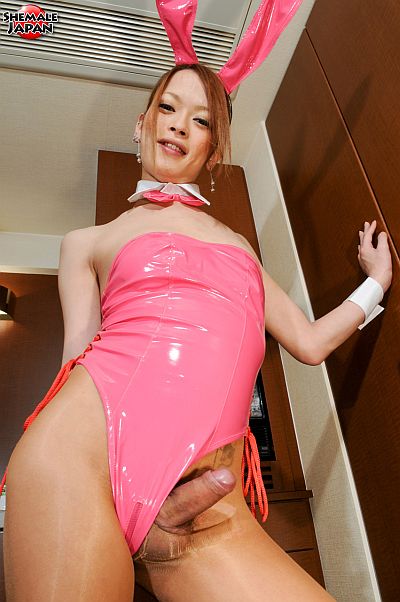 Mai is a 20 year old newhalf who works in a bar and is so passable as a genetic female, that not a single customer has ever realized she is a transsexual.
She's a pretty girl, with a lovely figure and a nice pair of hormone enhanced breasts.
For her to model nude for Shemale Japan was quite a big deal as she had never done any porn before, but she was not too shy when it came to doing the shoot.
Wearing a pink bunny girl costume with zip open crotch and shiny pantyhose, Mai looked like a real fuck bunny.
Her cock soon became hard, so she ripped open her pantyhose and released it so it poked out of the crotch of her bunny girl costume.
Then she did a sexy little dance, her stiff erection standing out proudly as she turned and moved her hips in rhythm.
Mai then played with her cute cock clitoris, pressing it down then letting it spring back up, as you will see in her video.
Mai`s hardcore set and video are also coming to Shemale Japan. I hope you will enjoy them!