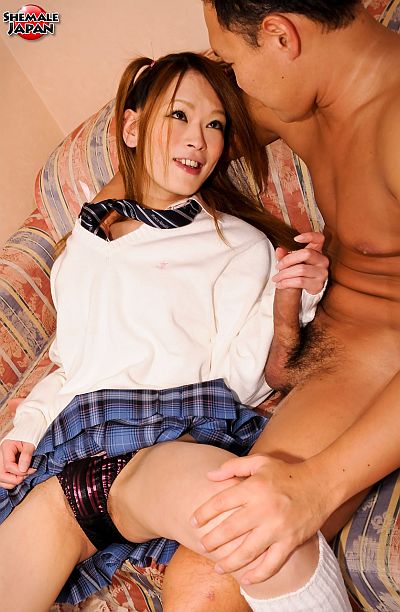 Here is that hardcore movie of Mai as promised, and it's a fantastic treat for those of you who like seeing newhalfs getting fucked in uniform.
Mai's a pretty girl, with a lovely figure and a nice pair of breasts, and she looked very sexy in her plaid skirt, blouse and tie.
She'd agreed to do this hardcore movie for us and started by giving our friend Michio a blow job.
What an exquisite little cocksucker she turned out to be! Her mouth formed a tight 'O' ring around Michio's thick shaft as she softly sucked his cock in her hot mouth. She gently rubbed his anus with her fingers at the same time as sucking on his erection, just to give him that extra pleasurable sensation.
Michio pulled down Mai's sweet panties and discovered our little slut's cock was semi-hard and her balls were sitting tight in their pouch. She stood holding her skirt up, while Michio sucked on her stiff little prick which poked out at an angle.
Michio then played with Mai's ass, putting his fingers up her tight brown fuck hole to make it wide enough to take his cock before he mounted her.
See Mai get fucked up her ass in this (21 minute run time) hi-def movie at Shemale Japan.