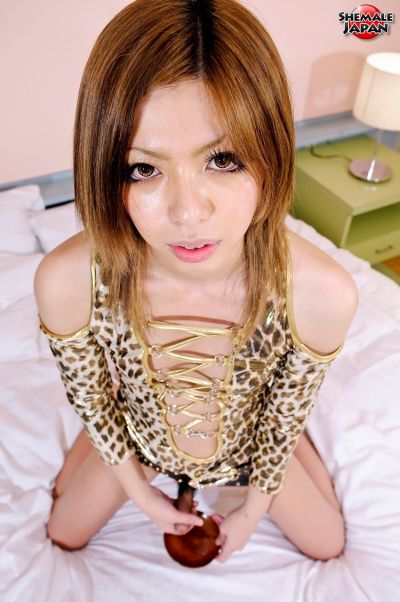 Japanese shemale Cocoa is one of the newest models at Shemale Japan and already she has proven to be quite popular amongst the members.
Slender and wide-eyed, Cocoa looks innocent but she's a horny girl in bed who likes to being submissive, and loves to cum by being ass-fucked and jerked off at the same time.
Cocoa visited me at my hotel and I noticed her sexy ass as she bent over, pulling her panties to one side to let me have a look at her nice butt hole.
She was wearing an attractive leopard print top and matching thong panties with tie sides which she untied. She then cupped her balls with the tiny triangle of material as her sweet erect cock stood out stiff and proud in front. Needless to say I took a few photos of her cock and balls in her 'pantie hammock' as I crouched below looking upwards.
Her lovely cock head has a nice tortoise shell shape, and I could have just sucked her off right there and then, but she wanted to show me more…
She got on the bed and started reaming her ass with a dildo, spending quite some time with that lubricated cock up her sweet anal passage. Then she got on her knees and jerked off furiously, wanking her cock and building up to her climax.
When Cocoa came she shot her load of cum onto a small wooden saucer, and the spunk just kept coming in jet after jet of sperm. I've rarely seen a newhalf shoot so much spunk, she must have been saving it up!
Enjoy this hot cup of Cocoa and watch her masturbate and ejaculate her ladyboy cum in her 15 minute movie at Shemale Japan.