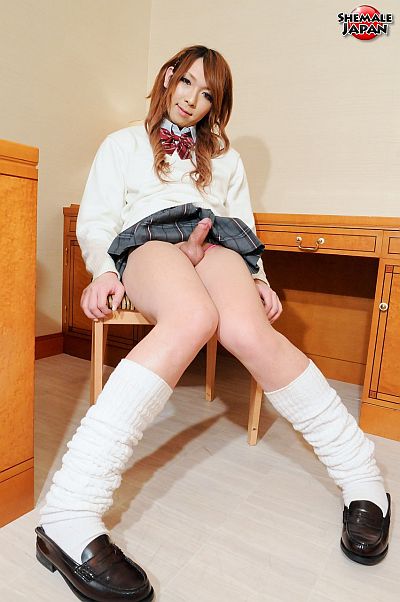 Dressed in a short skirt and 'loose socks', newhalf schoolgirl Fuuka Hanasaki jerks off her cock and cums over herself in this video at Shemale Japan.
Fuuka's doe eyes and shy smile make her appear sweet and innocent, but there's something about the bulge under her skirt that says she's a bit of a naughty girl.
Willing to show what she's wearing under her short skirt, she lifts it up to reveal her pink panties and rubs her erect cock through the soft satin material.
Pulling her panties so they tight under her balls, Fuuka tugs on her lovely clitty cock with long, loving strokes.
Then sitting on a chair, Fuuka lifts her skirt once more and plays with her shecock, rolling it around in her hands as she opens and closes her legs in excitement.
Fuuka's hand moves rapidly as she sits and tugs hard at her throbbing clitty cock, building up to her orgasm. Then she moans with pleasure and surprise as she climaxes, and shoots copious jets of hot sticky cum that splash onto her bare schoolgirl thighs.