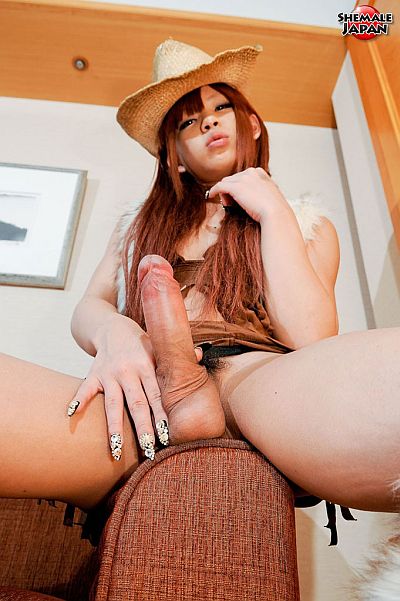 Newhalf Sayaka Ayasaki plays with her huge cock, dressed as a very sexy cowgirl in fur leggings and 'fuck me' heels in our latest video at Shemale Japan.
When 18 year old Sayaka Ayasaki debuted on Shemale Japan late last year, she took the site by storm, and quickly established herself as one of our top models.
We are so pleased to see her return looking super sexy in her cowgirl outfit, shaking her cute little ass and playing with her cock and balls.
'This leather and fur is so soft and sexy, it makes my cock so hard,' she said, as she stood and stroked her lovely erection with her manicured hand.
Sayaka's cock looked perfect as it stood to attention from under her sexy leather skirt, her hand tugging at her throbbing rod as she enjoyed the pleasure of masturbating in her soft leather and fur outfit.