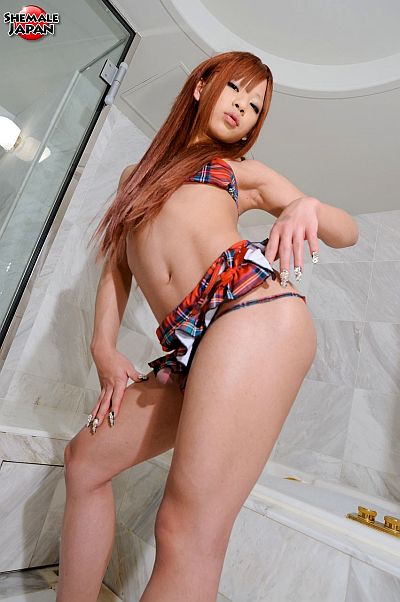 Sayaka dressed in a sexy paid bikini skirt and fur leggings and 'fuck me' heels, then played with her lovely cock in this video for Shemale Japan.
Nagoya's finest Teen Newhalf Sayaka loves teasing her sexy plaid bikini thong and turned to give a rear view of her smooth legs and pert little ass.
Sayaka loved how the material of her bikini clung to her ass, and pulling her pretty panties to one side she whipped out her cock.
Her gorgeous hard erection in her hand, Sayaka stood and stroked herself off, pulling the triangle of her bikini upwards so it cupped her balls and cock like a hammock.
Then squatting down in her heels, her heavy balls hung out of either side of her pantie crotch as she played with her stiff rod.
Retiring to the bathroom, Sayaka covered her genitals in lubrication then slid her cock, ass and balls along the edge of the bath to give herself pleasure.