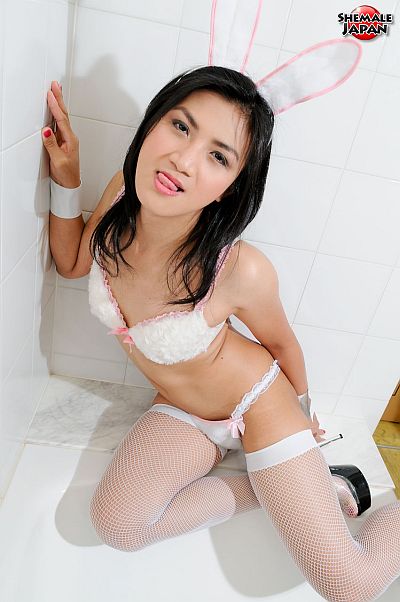 Newhalf Honey is a hot Asian fuck bunny in her fur bikini and stockings in her first video for Shemale Japan.
Twenty-five year old Honey is a mix of Japanese and Filipina and works in a newhalf show pub in Nagoya.
"You gotta enjoy sex," is her motto. "I am pretty sure no man can resist me when he sees me naked…", asserted Honey with a devilish smile.
Honey wore a white fur bikini with stockings, for this video, as it's one of her favorite outfits.
She loves how sexy it feels, especially the way her little thong fits snuggly around her cock and balls.
Honey began her masturbation by slipping off her bikini bra, playing with her pert brown nipples as her hand rubbed the crotch of her fur panties.
Then she stood up, pulled her cock out and fucked her hand, moving her ass in a circular motion to build up her pleasure.
Later she went into the bedroom and started playing with her vibrators, rubbing them over her tits and cock at the same time.
Honey tickled her anus with one finger as she applied the large vibrator to the head of her stiff cock.
Pressing the buzzing sex toy to her erection, she finally reached an intense orgasm which made ladyboy cum leak out of her jerking penis with every spasm of pleasure.
WATCH HONEY'S MASTURBATION VIDEO HERE AT SHEMALE JAPAN