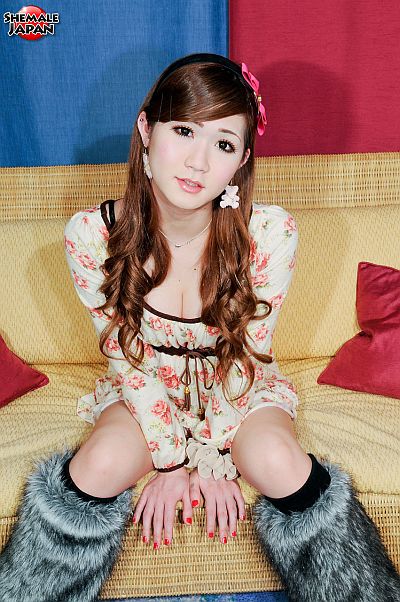 Nene Aizawa is only 20 years old but is best-selling newhalf porn star of 2010 in Japan, and has starred in in 35 adult films to date in 2011.
Not even in my wildest dreams did I believe she would agree to be on Shemale Japan, as she had an exclusive contract with a big, mainstream adult film studio.
However, she decided, upon termination of her previous contract, to do her first exclusive photo set and video for Shemale Japan.
Nene's video begins with an interview where she tells us a bit about herself, then she lifts up her dress to show us her pretty satin panties and pulls them aside to get out her stiff cock.
Nene then plays with her tits as she pouts her budding mouth covered in red lipstick, and looks into the camera with her soft innocent eyes as she strokes her lovely erection.
It's quite a contrasting sight seeing her pretty feminine face looking at you and watching her stroking her stiff erect cock at the same time.
Nene Aizawa is already proving to be a big hit at Shemale Japan so you can look forward to seeing her in many other videos in the near future.