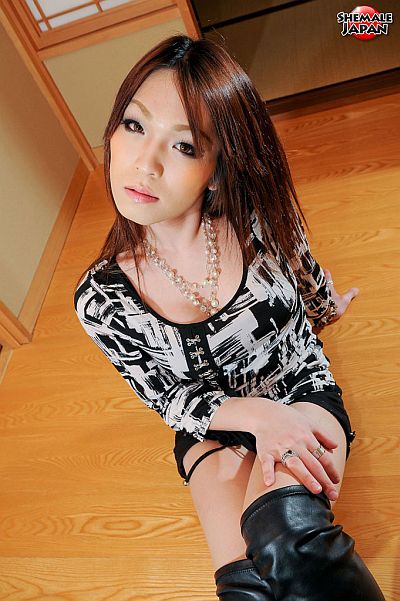 Newhalf Minami used to be known as Ari when she first appeared on Shemale Japan a few months ago, and we welcome her back for her 4th video to date.
Minami is 22 years old and works as an escort for a newhalf escort agency, where her pretty looks, long dark hair, big breasts and cock make her a popular choice.
She begins this video sitting on the floor, talking in softly spoken Japanese as she removes her knee high leather boots.
You'll see that Minami's feet are very feminine as she strokes them and slides her hands up her pale slender legs.
Lifting her top she pushes her hands into the cups of her pink satin bra to squeeze and massage her fully rounded tits.
Removing her shorts, Minami reveals she has a huge bulge in her pink satin panties, and pulling them to one side her cock springs out proud and erect.
Minami then strokes her cock now free of its restriction, uttering sounds of delight in Japanese as she tugs on her ladyboy erection.
Lifting her legs back so her cock and ass are in full view, she then wets her finger and massages her brown butthole with it, while playing with her huge prick at the same time.