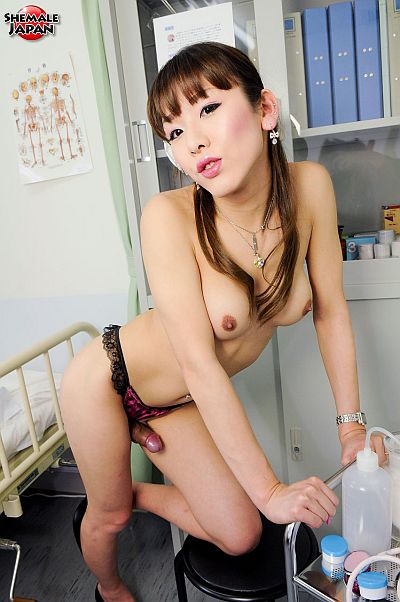 If all doctors looked like Newhalf Karina Shiratori, I'm sure lots of guys would fake ailments just to see her personally for a check-up.
Dr. Karina looks so pretty as she stands and looks over the rim of her glasses, opening the front of her white coat to show off her long shapely legs in heels.
Wanting to test your blood pressure, Dr Karina undoes her coat to reveal she is half-naked, except for a sexy polka dot bikini bra and panties that barely covers her tits and cock.
Making sure your pulse is racing, Karina pulls her cock out of the side of her panties and strokes it in her manicured hand.
There's a look of sweet pleasure on her pretty face as she toggles her erection, causing the light to shine on the fat purple cockhead as she tugs it in her hand.
Dr Karina pulls out her titties and plays with her pert brown nipples as her hand swiftly strokes off her shemale shecock.
Watch in close up as Dr Karina pulls on her prick and shoots long jets of cum into the air as she climaxes in her video.