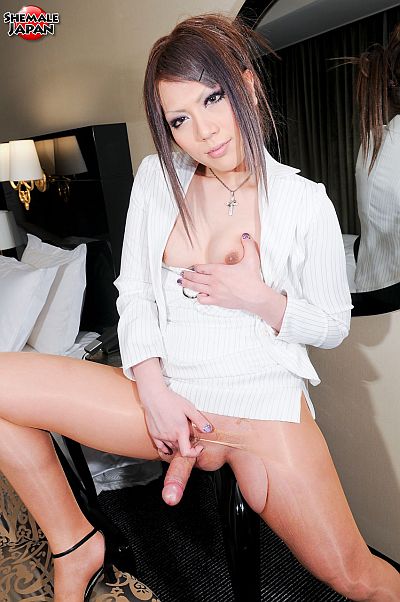 Japanese Shemale Jyuri is a smart looking secretary dressed in her conservative business attire, but when she gets home she likes to whip out her cock and relieve her sexual tensions, as seen here in her latest video at Shemale Japan.
Jyuri looks over the rim of her sexy glasses as her hands explore her legs encased in sheer glossy pantyhose.
She lifts her tight skirt to reveal her stiff cock trapped behind the sheer nylon mesh of her sexy pantyhose and gives her erection a good rub.
Ripping open the gusset of her pantyhose with her manicured fingernails, she frees her huge cock and encircles her fingers around the shaft of her hard erection.
She then tears the seat out of her pantyhose and spreading her legs, she teases the puckered ring of her exposed ass with her fingers.
Jyuri then waves the shaft of her erect penis as she strokes herself off, rubbing the bulging cockhead of her throbbing meat against her pantyhosed thigh for maximum pleasure.