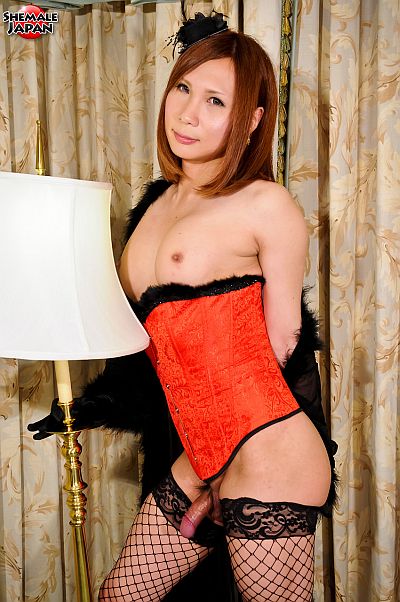 It's been a few months since we last saw Yuu Hoshibana, but this week she returns to Shemale Japan wanking her cock in a red corset, panties and fishnet stockings.
Leaning back against the dressing table, Yuu looked stunning in her red satin corset which accentuated the soft feminine curves of her body.
Standing in her platform heels with her gorgeous legs in net stockings slightly crossed, my attention immediately focused on the bulge of her cock hidden behind her black panties.
Wearing some sexy long black opera gloves, Yuu pressed her breasts together and groped her cock in panties, pulling them upwards so her balls pressed out either side of the tight triangle of her thong.
Unable to keep her erection hidden behind the flimsy panties, she let her cock spring out and waved the purple shiny cockhead close to the lens of the camera.
Yuu proudly showed me her thick cock, stroking it lovingly in her gloved hand as she tossed herself off!
Applying some oil to her veined shaft, Yuu then knelt on the chair giving me a rear views as she tugged, pulled and massaged her shemale cock.