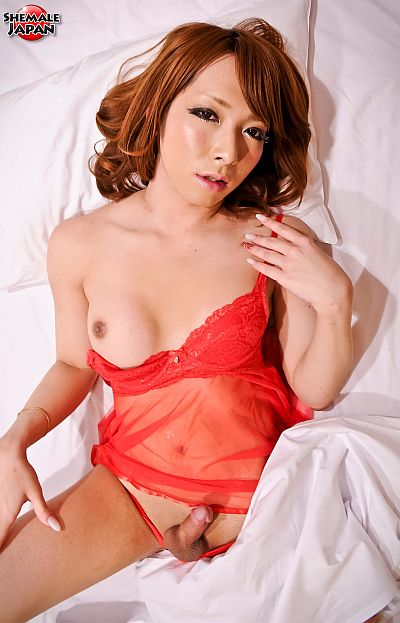 Japanese Ladyboy Fuuka Hanasaki strips off her red fishnet stockings and lays back on the futon to masturbate in this video at Shemale Japan.
Fuuka runs her hands over her body and slipping the straps of her red negligee from her shoulder, she exposes her perfect breasts with their pert brown nipples.
Her hands soon find their way to the crotch of her red satin panties, where she begins to caresses her bulging penis through the tight triangle of her thong.
Pulling down the waistband of her panties, she releases her prick which springs out proud and erect, the cock head thick and purple with pleasure.
Hiro reaches to grasp Fuuka's lovely cock and gives her a helping hand, tugging on her shaft and making her gasp as he masturbates her clitty cock.
Fuuka covers her erection in oil and the cock head glistens as she fists her slick shaft, her slutty balls pulled up tight in their sack, which she rubs and covers in more oil.
After a long masturbation, Fuuka finally cums in her fist, thick semen running from her cock head and down the base of her shaft.