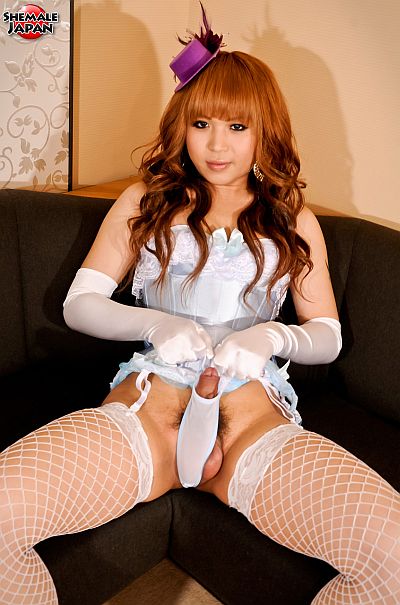 Japanese Ladyboy Kaede looked very sexy in her pale blue satin corset and stockings, and wasted no time getting out her cock to start wanking herself off in her latest video.
Wearing this sexy lingerie outfit made her feel extremely horny, and her stiff cock poked right out the top of her panties. In her excitement she pulled down the waistband of her pantie thong and immediately began to stroke off her rod.
With her hands covered in satin opera gloves, she tugged back the foreskin of her clitty cock, and fondled her tight ball sack.
The lights shone off the dome of her thick purple cockhead as she gripped the shaft with her satin gloved hand, uttering sounds of tgirl pleasure as she stroked her joy stick.
Kaede then knelt and presented her ass to the camera, pulling her cheeks wide apart so the puckered ring of her ass was right up close to the lens.