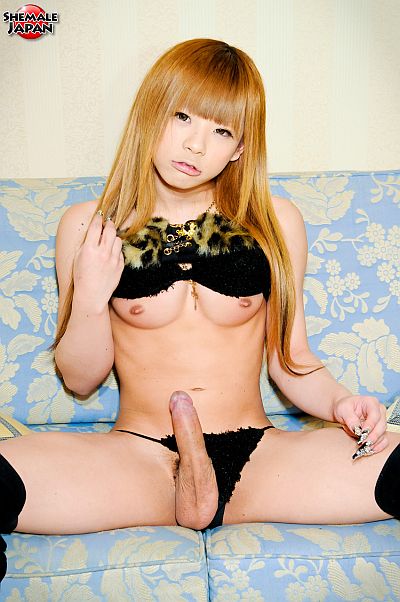 Pretty Newhalf Sayaka Ayasaki returns to Shemale Japan, flaunting her body and playing with her cock to make herself cum, in her latest video.
Sayaka is real cute looking, with lovely long red hair and a pixie like face, which maybe is due to the fact she is part Chinese.
Sayaka also has a fit, slender body with nice smooth skin and soft, rounded breasts, just like a girl. If it wasn't for her cock you'd never have guessed she was a transsexual, and boy what a cock!
Sayaka begins her video by showing off her pert ass in those red leather hotpants she's wearing. Then she takes off her pants and pulls down her fur thong to get out her huge cock for a play.
Sitting on the sofa she shows us her lovely ass as she strokes her cock with manicured fingers wrapped around the shaft.
Sayaka cries out with pleasure as her orgasm nears, and she sits forward to splash her thick white cum over the glass table top.