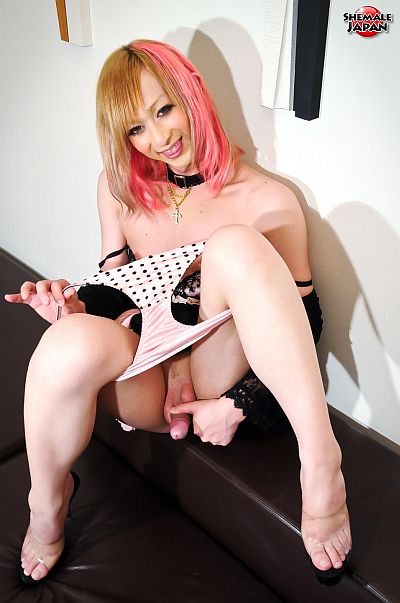 Japanese Newhalf Miu Momoka pulls down her panties and plays with her erect cock in her debut video for Shemale Japan.
Miu gave a sexy smile as she pulled up her dress and Hiro reached out to rub ridge of her stiff cock through the soft satin material of her polka dot panties.
Hiro pulled Miu's panties down to her thighs to release her stiff cock, his thumb and fingers circling around the meaty cockhead and tugging on the hard shaft.
Miu's cock is not long or large, but instead is a nice, thick, chubby penis which stands out at a good 45 degrees and looks so cute and suckable.
I think Hiro was fascinated by Miu's lovely cock, and got her to lay out on the sofa to watch her tugging the foreskin over the thick, purple knob of her erect prick.
You can be sure you'll be seeing more of this cutie and her adorable cock in the near future.