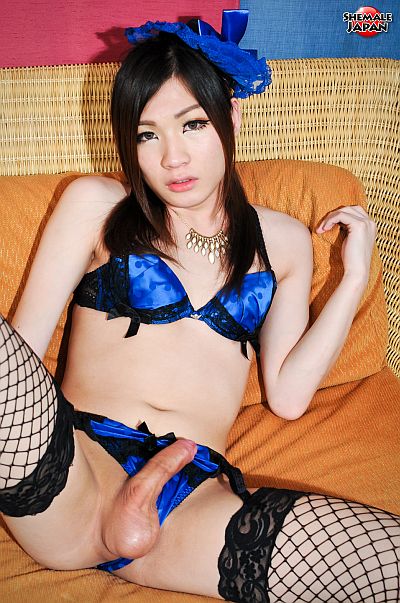 Japanese Newhalf Mako Aiuchi has become one of the rising stars here on Shemale Japan since her debut a few months ago, and in this video she delights in jerking off  her lovely cock.
Mako looks a bit like an old saloon bar girl in this scene in her slutty fishnet stockings and blue satin lingerie panties and bra. Sitting on the sofa  with her legs apart like a whore open for business, she draws attention to the bulge in her panties as she rubs it with her hand.
Mako then pulls out her erect cock and balls from the side of her panties and Hiro tugs on her shaft, pulling the foreskin over the shiny purple crown of her throbbing prick.
Shaking her hips gently, she makes her curved erection wobble from side to side, then grabs the shaft and pumps it in her tight fist.
Mako stokes her cock a good while as she builds up to her climax, then as her ball sack tightens up she cums and ejaculates thick ropes of semen onto the sofa.