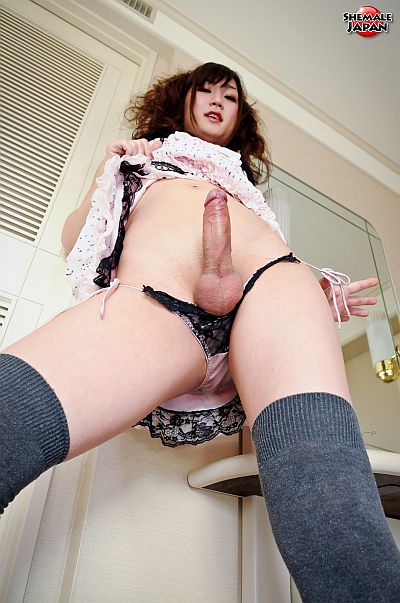 Japanese Newhalf Nene Aizawa was looking really cute in her pink baby doll lingerie, satin panties and thigh high woolen stockings.
Lifting up her dress she revealed the soft mounds of her perfect tits, and her fingers played with her puffy brown nipples and made them stand out erect.
Her hand teasingly brushed over the slight bulge in the front of the pretty purple and black satin panties as she sat with legs apart. Then she took out her nice big cock, and it pressing it forwards with her thumb she let if slap against the flat of her belly several times.
Nene's cock was sticking out of the top of her panties and as she stroked it a strand of pre-cum leaked out of her pee hole. Her fingers played with the cum as she pulled back the foreskin and teased purple crown of her erect penis, which was so shiny it reflected the light.
Pulling down the elastic of her panties so they were tight under her balls Nene gripped the shaft, then vigorously moving her hips she pumped her throbbing cock in her bunched fist.