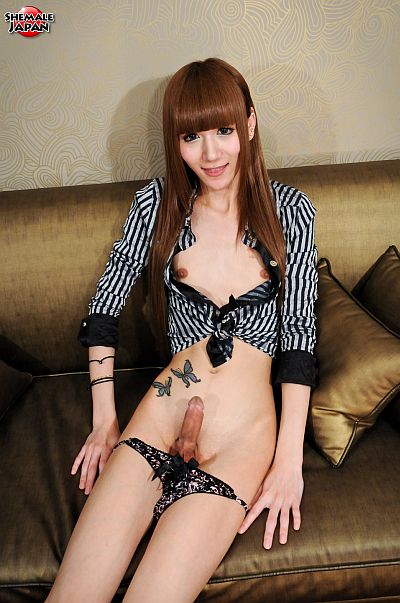 Miki B looks is a real cute looking Japanese princess with her doe like eyes, sweet soft mouth and long flowing hair that flows down over her breasts, she is the perfect girl of your dreams.
Miki is only 5'5″ tall, but looks a lot taller in her photos. Maybe this illusion is because she has a very skinny body and has legs that appear go on forever, as you will see in her latest photo set and video.
It begins with Miki wearing a knotted shirt that exposes her flat belly, and unzipping her denim shorts reveals she is wearing a very pretty pink and black pantie thong.
There's a bulge in her panties and she pulls them to one side to tease the head of her prick. Then she pulls her panties down to let her full sized erection stand out at an angle from her groin.
Miki sits down with her prick erect in her lap and smiling she pulls open her shirt to shows off her flat breasts and brown nipples that look like small round berries. Kneeling she turns to give Hiro a look of her tight little ass and the sight of her balls hanging down between her thighs.