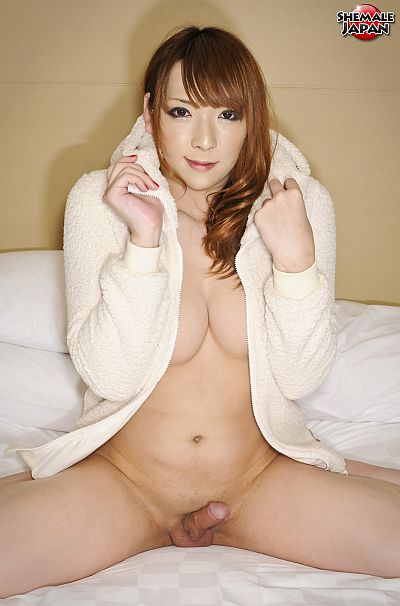 Fuuka unzipped her fleece top and brushed her fingers across her dark brown nipples, then her hand reached down to her tiny pink pantie thong and pulled them up tight around her cock and balls. Her hands continued to caress the pale skin of her slender body, moving over her thighs, ass and belly as she aroused herself, then she pulled her erect cock out of the top of her panties and gave it a stroke between her fingers.
Moving her hips sideways she made her erect cock swing from side to side, then tugged her panties down before she climbed on the bed. Fuuka then knelt and pumped her cock between the fingers of her oiled fist, a look of concentration on her face as she gasped at the delicious sensations her cock was experiencing.
Her hand slipped perfectly up and down her oiled shaft as she masturbated, sometimes rubbing the cockhead with her fingers, other times tugging on her shlong which glistened wetly with the slick lubricant that covered it.
Fuuka lay back fully naked on the bed, her hand making sticky sounds as she rapidly pumped her oiled fist over her stiff shecock. She concentrated intensely as she focused on building up to her climax, then when the moment came she uttered a cry of joy as thick white strands of jizz shot out of her cock and landed on her naked thigh.