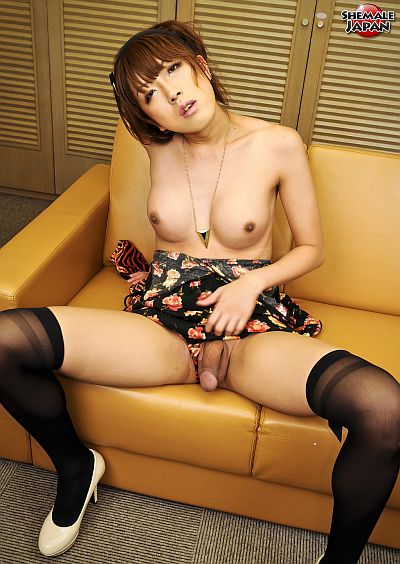 Ran Mizumoto appeared to be a bit of a shy girl at first, but she sure did get into jerking-off her meaty cock and showing us how much sperm she has in those balls in her debut video.
When Ran tugged her panties down and pulled out her cock we were pleasantly surprised at it's overall size. Wrapping her fingers in a firm girp around the shaft she worked it up to full erection and presented us with one of the thickest cocks we've ever seen on a Japanese newhalf.
Ran's cock could be best described as being quite 'meaty' with a lovely curve to it and a thick, round cockhead the like of which we had never see before. She had a neat trick of pushing her cock forward and letting it slap back against her naked belly like a meat hammer, then repeating the action and smiling in the knowledge that her cock is something quite special.
Removing her dress revealed she had small breasts with perky nipples, then she removed the rest of her clothes and lay down to concentrate on jerking off her large shecock. She wanked her erect cock with rapid movements of her hand as she brought herself to the point of cumming and suddenly she ejaculated thick white jets of cum which spilled over her fist and landed on her belly.