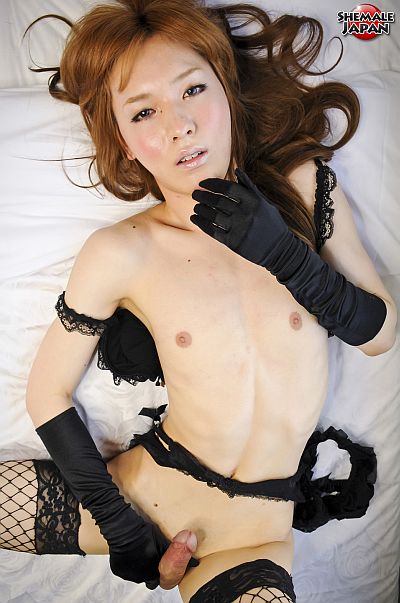 Lisa sat near the window stroking her legs in their sexy fishnet stockings and heels, then rubbed her gloved hands over the bulge in the front of her black satin panties. She pulled the panties up tightly so her balls squeezed out of the sides and the head of her erect cock stuck out from the top of the pantie waistband as she rubbed the crotch.
Lisa pulled the panties to one side and out flopped her huge erection onto her thigh, which lolled around from side to side as she continued to rub it with her gloved hands. She stroked the meaty shaft and threw it around like a fat sausage; pushing and pulling it in every direction as she wanked it off with a look of serene pleasure on her pretty face.
Getting up to stand, she bent over and pushed her genitalia back so her cock and balls were sandwiched between her thighs. She played with the thick bell end of her cock as stuck out from behind; pushing and bending the meaty prick around in her hands and making it grow to an even bigger size. Lisa then moved her ass in a very sexy way and pulled the thong of her panties aside to give a view of her puckered anus, cock and balls all at the same time.
Getting on the bed she removed her panties and gripping her cock in one gloved fist she jerked herself off. A look of concentration came over her face and her cheeks blushed with arousal as she pumped her cock in her fist and slowly but steadily built up to her climax. Then suddenly the moment arrived and she uttered a cry of pleasure as thick jets of white semen flew out of the end of her cock and landed on her naked belly.