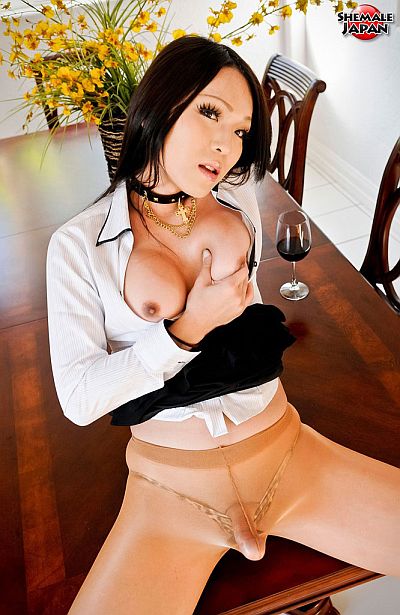 Japanese Newhalf Minami Hosho looks stunningly beautiful as she plays with her hard cock in pantyhose in her latest video for Shemale Japan.
Minami looked stunning in her light summer shirt, black mini skirt, shiny pantyhose and heels, and with her long dark hair no-one would have guessed that this girl was packing a penis down her panties.
Relaxing with a glass of wine at lunch time, Minami was enjoying her holiday in Hawaii. But rather than go out for the day as she had planned, Minami decided she needed to get out her cock and give it a good tug.
When she lifted her skirt, I noticed her cock was already stiff and poking out of the top of her tight leopard print panties beneath her pantyhose.
Releasing her erect member from it's pantyhose confinement, Minami grabbed her thick shaft and began pumping her hips to fill her fist with throbbing dick.
She then teased her erection by rubbing it through the front of her sexy pantyhose, pulling at the tight mesh to create some friction against the crown of her bulging cockhead.
Minami then ripped open the crotch of her pantyhose and sandwiched her erection between her thighs, teasing the thick purple head of her cock with her fingers, and putting them to her mouth to taste her own pre-cum.