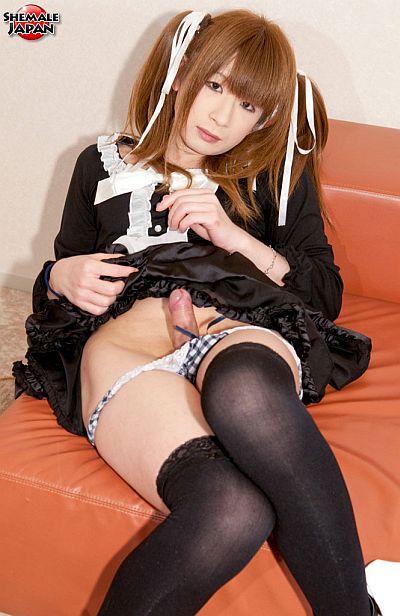 VIEW MOVIE TRAILER OF JAPANESE SHEMALE HIROMI
Hiromi looks awesome with her beautiful pale, translucent skin, natural hormonal breasts and hard cock sticking out of her panties.
This 23 year old waitress, loves dressing up in maid, nurse or other Cosplay costumes, and likes to be treated like a real girl.
She is like your perfect cute girl toy who is happy to sit on your lap, let you put your hand down her panties and feel her huge cock-clitoris.
Having never done porn before, Shemale Japan persuaded this 23 year old waitress to show off her costumes, one of which is this maids outfit.
She started by showing me her cute 'gingham' panties by slowly lifting her skirt. I could see her sweet cock had become so stiff, it was bulging behind the material and she gently rubbed her erection.
Hiromi is very shy, like an innocent girl, but I wanted to touch her prick myself, and she let me tug her panties down and play with her stiffy. Then she stood up and pulled her knickers down even further so I could tug and play with her thick penis-clitoris.
See more of Hiromi having her cock and ass played with in her movie at Shemale Japan.